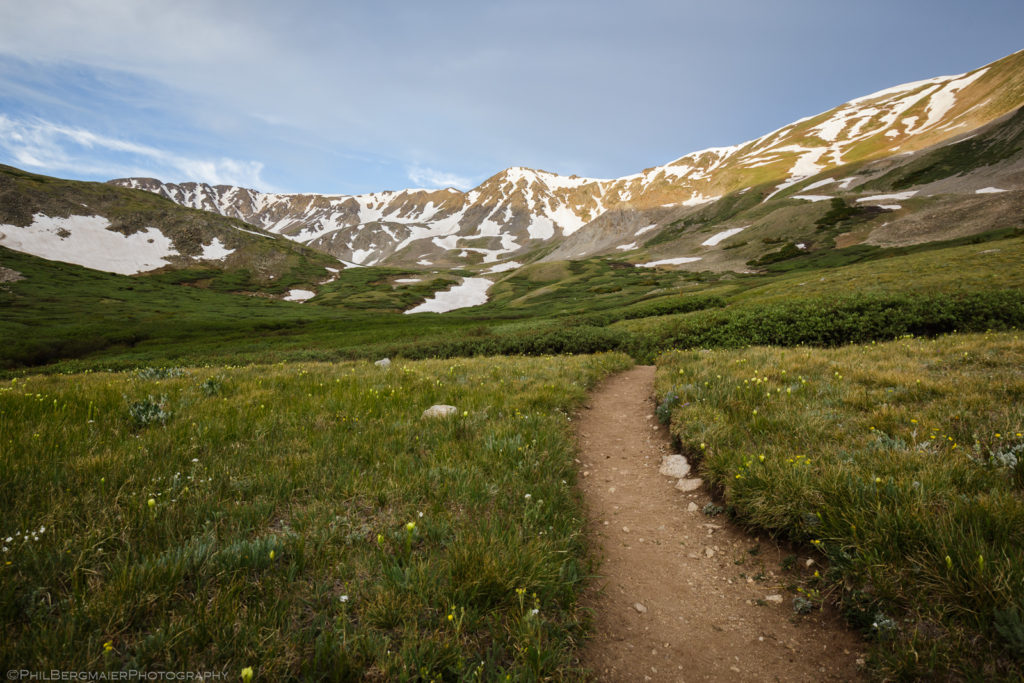 TRIP STATS
Mountain(s):  Missouri Mountain (14,071′)
Distance:  10.2 miles
Elevation Gain:  4,400′
Roundtrip Time:  9 hours
BACKGROUND
It was mid July 2019, about 9 months since my last 14er hike. For months I had been chomping at the bit to get back at it, delayed mainly by a lingering deep snowpack from the previous winter. With a couple big hiking trips in the plans for later in the summer, I knew I needed to get back into 14er shape quickly. I set my eyes on Missouri Mountain, a relatively tame 14er that I had yet to summit. About 15 miles northwest of Buena Vista in central Colorado, Missouri Mountain is situated smack dab in the middle of the Sawatch Range, close to neighbor 14ers Mt. Harvard, Mt. Belford, Mt. Oxford, and Huron Peak.
Like many of the Sawatch 14ers, summiting Missouri is a workout, albeit a technically easy one. The standard trail begins at the Missouri Gulch Trailhead along Chaffee County Road 390. From there, it is a relatively straightforward 10+ mile roundtrip hike with about 4,500′ of elevation gain.
I decided to head down the night before and try to find camping near the trailhead. I knew I needed a fairly early start. This mountain is known for its ability to maintain a decent snowpack well into the late spring and early summer, and 2019 was supposedly no different. Trip reports from the previous week suggested that some of the trail was still covered in snow. I wanted to make sure that I ascended these snowfields early in the morning before the snow softened up, since I had no desire to be post-holing. This meant getting on the trail well before sunrise.
My original plan was to bring my skis and attempt to get some turns on the steeps slopes along the east side of Missouri's northwest ridge. After arriving at the trailhead and deciding to car camp, I began second guessing my ski plans. I really did not want to lug skis and boots on my back for 90% of the hike. That sounded miserable. If I'm going to carry that much extra weight (~23 lbs), the skiing better be well worth it! Otherwise, I'm setting myself up for a bad time. However, if I decided not to bring skis, I wondered if I should even attempt to summit Missouri Mountain at all. That same trailhead also provides access to Mt. Belford and Mt. Oxford, the latter of which I had also not yet summited. So I went to bed that night pondering my options for the next morning.
SUMMIT DAY – THE HIKE
I hardly slept that night. Perhaps an hour at the most. No bueno. By 3am I realized my chance for sleep had come and gone, so I got dressed and began loading my backpack. At this point, I was about 80% committed to doing Mt. Belford and Mt. Oxford. My gut told me there would be too much snow covering the slopes leading up to Missouri and I did not have any traction (i.e., snowshoes) with me. I had completely abandoned my ski plans as well.
I was on the trail around 4:15am with only my day pack and trekking poles. A few hikers had left before me so I knew I wasn't the only one on the trail. Despite little sleep, I felt pretty good and established a good pace early on. The first mile gains 900′ of elevation and is fairly strenuous, ascending through multiple switchbacks. Around 10,800′, the trail crosses the creek and enters a wide open avalanche path (Photos 1 & 2, taken later that afternoon on the descent). Although this path had been around for quite some time, it was clear that a large avalanche had slid through here recently. This slide likely happened during the historic avalanche cycle Colorado experienced in March 2019. In fact, the downed trees had diverted the creek in spots to the point that the creek was actually running through parts of the trail.
A little farther up the trail, I reached treeline near 11,200′. I'd been hiking for about 75 minutes, covering 1.75 miles with ~1,600′ of gain. I felt really good. Shortly after sunrise (Photo 3), I reached a trail junction and had to make a decision. I could either go left (southeast) and head up to Mt. Belford or stay right (south) and continue up Missouri Gulch toward Missouri Mountain. From here, I had a pretty good view of the basin to the south (Photo 4). It looked like the snow coverage wasn't as extensive as I had originally thought. This made for an easy decision… continue southward toward Missouri Mountain.
The next trail junction was around 12,600′, about 4 miles in, which I reached at about 7am. Here, the Missouri Mountain trail breaks off the main trail to the right (southwest) and works its way up more than 1,000′ toward Missouri's northwest ridge. After resting for a few minutes, I continued on my way.
As expected, the route briefly crossed several deteriorating snowfields full of sun cups as it meandered up to the ridgeline (Photos 5, 6, & 7). The steepest of these snowfields was just below the ridgeline (Photo 8). Even without traction, I was able to scamper up this last snowfield with relative ease and reached the 13,750-ft ridgeline at about 8:30am. The view from here to the west was tremendous, with about ten other 14er peaks in sight (Photos 9 & 10).
At this point, the summit was only about 0.7 miles away to my southeast (Photo 10). Closer to the summit, the route became more interesting as it meandered around a few gendarmes and other rock features along the ridgeline (Photo 11). Overall, the short trek along the ridgeline was a breathtaking and wonderfully serene way to finish the ascent!
I finally reached the summit proper at 9:18am. The scenery was of course incredible. I was, after all, in the middle of the Sawatch Range with giant mountains surrounding me in every direction (Photos 12, 13, and 14). No ominous clouds in sight and there was no indication that any such clouds were about to develop. Thus, I enjoyed a relaxing hour-long respite on the summit. Temperatures were probably in the upper 40s with a very slight breeze. Glorious!
SUMMIT DAY – THE DESCENT
After the long rest on top of Missouri Mountain, it was time to head back down. About halfway back along the northwest ridge (Photo 15), I entertained the idea of glissading down the 600-ft snowy slope to the east. This would save time and distance on the descent, and my knees would thank me later. While on the summit, I noticed that a few fellow hikers had glissaded down from this same spot. It looked fun to me, so I threw on my waterproof pants and gaitors and slid on my rear end down the 600-ft slope. As expected, it was such great fun!
Had I declined this opportunity and kept on the trail, it would have taken about 30 minutes to make this descent. By glissading, I was down in about 60 seconds. Time and energy saved! I then found a dry, grassy spot amidst the snow field and took a quick break to allow my outer layers and boots to dry in the late-morning sunshine (Photo 16). By 11am, I was back on the main trail with a stunning view ahead of me (Photo 17).
The leisurely walk back down through Missouri Gulch was a great way to finish the hike. I reached my car a little after 1pm, making for a 9-hour day on the mountain. Overall, I would consider Missouri Mountain to be a wonderful hike, even early in the summer when snow cover is still an issue. It wasn't much of an issue for me on this day, but had I done this in June I probably would have wanted flotation.
Anyway, this was just the beginning of my 14er adventures for the summer of 2019. Missouri Mountain kicked me into shape and got me ready for more menacing 14ers in the coming weeks. If you're interested, below is my video trip report from this hike that I uploaded to YouTube. Enjoy!